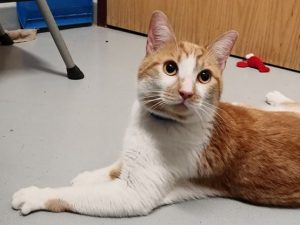 Domestic Shorthair – Neutered
Male

– 1 year, 6 months – 10 pounds

What an affectionate marshmallow! Hobbes is a big, friendly boy who gets along with everyone he meets. He was surrendered to the shelter because his previous owner had too many animals. Hobbes appears to get along well with other felines and people of all ages. We think he would also do well in a home with cat-savvy dogs. Hobbes is affectionate and loves receiving cheek rubs and rump scratches. He tolerates being held, but is much more interested in lounging in a sunny spot or exploring his surroundings.
TheBarknPurr.com have offered a gift certificate for $25.00 to each cat/dog adopted on Furry Fridays.
---
Thanks to you all for finding homes for these guys: