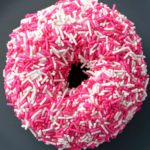 Friday, June 5th, is National Donut Day!  To celebrate, several donut shops in the Treasure Valley have deals going on…here's what we know!
Guru Donuts – They're opening at 8 Friday morning, and the first 10 customers get a Guru Donuts shirt.  The first 200 customers get a free donut with their purchase.  Random customers get merchandise all day long.  (928 W. Main St)
Krispy Kreme – They've already started, by doing National Donut Week.  Just stop in and ask for your free donut, through the end of Friday.  (1525 N. Eagle Road, Meridian)
The Donut + Dog – The first 25 customers get gift bags.  Random six-pack boxes will get one of 12 golden tickets, which will be entered in a grand-prize drawing for a number of different prizes.  (The Village at Meridian)
The Fit Donut – The first 20 customers get a free donut.  They'll offer five donuts for nine dollars ($11 for gluten-free).  There will be a raffle for donut and T-shirt giveaways.  (1330 E. Fairview Ave. #105)
The Dapper Doughnut – 20 percent off all orders over a dozen.