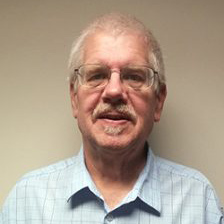 Monday -- 10:00 AM - 03:00 PM
Tuesday -- 10:00 AM - 03:00 PM
Wednesday -- 10:00 AM - 03:00 PM
Thursday -- 10:00 AM - 03:00 PM
Friday -- 10:00 AM - 03:00 PM
Saturday -- 10:00 AM - 02:00 PM
Barry Lewis has been a Boise Radio Personality for more than 25 years, entertaining and informing audiences with the best music, local updates and a quirky sense of humor. He's Idaho-born, raised and educated, holding degrees from both BSU and UI – a true Broncal/Vanco. He loves mystery books, movies (except horror!), photography, dogs, ice cream and Idaho's great outdoors. Barry did something incredible in 2015. He lost over 100 pounds and doesn't want anyone to find it.
Barry says that working at 107.1 KHITS is by far the most fun he's ever had in radio, thanks to YOU, the most fun-loving audience!
Things Barry likes to do between playing The Treasure Valley's Greatest Hits: River hiking with his dog, Misty, on the Greenbelt and beyond—so far they've seen bald eagles, blue herons, otters, beavers, elk, deer, skunks, foxes, and raccoons; nature photography; reading James Lee Burke and Michael Connolly crime novels; catching any movie starring George Clooney, Johnny Depp, Morgan Freeman, Tom Hanks, Anthony Hopkins, Ashley Judd, Helen Mirren or Denzel Washington; throwing the occasional mean gutter bowling ball; watching every Boise State football game with his twin brother.
Thank you for adding 107.1 KHITS to all your daily activities!